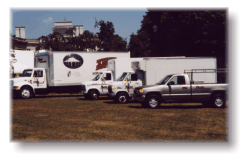 Established in 1985 by Julie Figueira and son Steve Figueira. Julie has been manufacturing marquee tents for 35 years and still is largely involved. We have grown steadily over the years and can provide a large range of products from 10' X 10' Free Standing Frame Tents to a classy 40x140 for your wedding or special event. Other products are tables, chairs, Hardwood and Plywood flooring, and staging. Our corporation manufactures all products. We also offer lighting and cathedral walls at no extra cost.

We provide free site inspections and consulting to ensure that proper tent size and installation day to be trouble free. We service areas including Hamilton, Brantford, Burlington, Oakville, Stoney Creek, Grimsby and many, many more!.

What a few of our Customers have to say....
"..Professionalism and attention to detail"

We put a lot of effort to ensure complete customer confidence and satisfaction by having available an emergency cell phone number direct to the owner Steve Figueira. Steve is on the job sites with the crews, to talk with each customer to make sure all work is to the customer's satisfaction. We also respect the customer's property and are sure it is left the way we found it. We have an excellent record and can gladly provide names of many satisfied customers as references

When you book an event with Figueira you can be sure you are going to get a clean and attractive tent that you can be proud of. We manufacture all of our own tents and even repair tents for other companies. We guarantee a safely installed, clean and well maintained tent.

Our company's goal is to provide friendly and courteous service to all of our customers. Any problem can be solved!! We consider ourselves and our corporation to be straightforward, honest and a member of your celebration!